Regent Street Cinema Luminaries: Ray Harryhausen The Golden Voyage of Sinbad 50th Anniversary Screening plus Introduction from Caroline Munro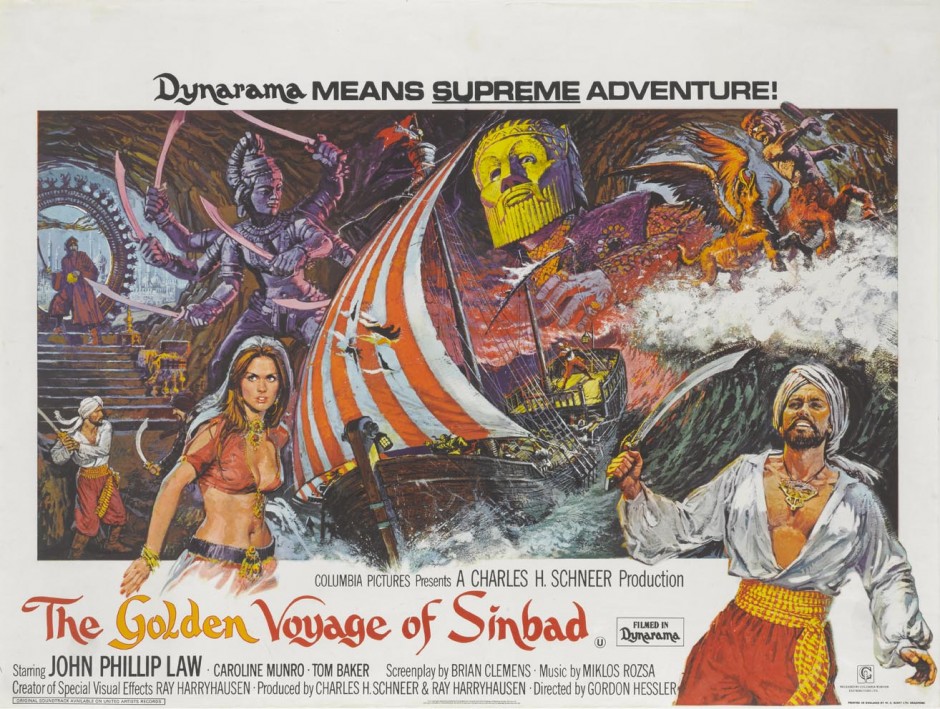 PIONEERING ANIMATOR AND SPECIAL EFFECTS CREATOR RAY HARRYHAUSEN TO RECEIVE LUMINARIES TRIBUTE AT HISTORIC REGENT STREET CINEMA
Regent Street Cinema Luminaries: Ray Harryhausen
The Golden Voyage of Sinbad 50th Anniversary Screening plus Introduction from Caroline Munro + Q&A
Friday 29th September 2023 at Regent Street Cinema
Buy Tickets: https://www.regentstreetcinema.com/whats-on/the-golden-voyage-of-sinbad-50th-anniversary-qa/
Animator behind iconic films such as Jason and the Argonauts and Clash of the Titans is the first to be honoured at Regent Street Cinema with an event to celebrate his groundbreaking work.
London, August 30th 2023 – The illustrious legacy of stop-motion animation visionary Ray Harryhausen will be celebrated with the unveiling of a commemorative plaque at the historic Regent Street Cinema on Friday September 29th 2023 as part of their Luminaries initiative. This momentous occasion, presented in partnership with the Ray and Diana Harryhausen Foundation, will honour the indelible contributions of Ray Harryhausen to the global screen industries.
Ray Harryhausen was one of the most important filmmakers of the 20th century.  Ray created some of the most memorable special effects of cinema history, bringing his unique menagerie of creatures to life upon the big screen in classics such as Jason and the Argonauts, The Golden Voyage of Sinbad and Clash of the Titans. Many of his most popular films saw classic tales and mythology adapted into 90 minutes of fantasy cinema, astounding audiences with his groundbreaking techniques.
In honour of the 50th anniversary of its release, a rare screening of one of Ray Harryhausen's most iconic films, The Golden Voyage of Sinbad, will play for attendees following the presentation of Ray Harryhausen's commemorative plaque.  This event will represent the first public celebration of Ray's life and work in London since his centenary in 2020.
Ray Harryhausen is the first to be honoured as part of Regent Street Cinema's Luminaries initiative celebrating pioneering film talent. Regent Street Cinema's Luminaries initiative is a nod to The Lumière Brothers, who famously screened the first ever moving images to a paying audience at Regent Street Cinema in 1896; the cinema is commonly regarded as the birthplace of British cinema as a result.
Over the next three years, Regent Street Cinema: Luminaries will be honouring filmmakers, talent and facilitators, each unique in their commitment to trailblazing in film.
Billy Watson, Managing Director at Regent Street Cinema said:
"We are very proud of our place in history as the birthplace of British cinema – and today we are excited to extend that legacy by honouring some of cinema's greatest pioneers. With a commitment to breaking the mould, we couldn't think of a better first honouree than Ray Harryhausen."
The ceremony and screening of The Golden Voyage of Sinbad will be introduced by starring actress Caroline Munro, the 'First Lady of Fantasy'. Joined by Ray's daughter Vanessa Harryhausen, Trustee, Filmmaker and Author John Walsh and Collections Manager Connor Heaney, Caroline will share memories of her time working on the 1973 classic, as well as her lifelong friendship with the Harryhausen family.
Attendees of this very special event will be greeted with an exhibition of replica models of Ray Harryhausen's infamous creatures at Regent Street Cinema and also be in with a chance of winning prizes including a coveted Star Ace Toys deluxe replica model of 'Kali' and signed copies of Ray Harryhausen: Titan of Cinema by Vanessa Harryhausen and Harryhausen: The Lost Movies by John Walsh.
Categories:
Announcements