About The Foundation
The Ray & Diana Harryhausen Foundation is a charitable Trust set up by Ray on the 10th April 1986. It is the primary aim of the Foundation to protect Ray's name and body of work as well as archiving, preserving and restoring Ray's extensive collection.
In addition the Foundation is firmly committed to show and exhibit, for educational and entertainment purposes, all of Ray's unique collection which includes the short films as well as his feature productions.
Since Ray's death on the 7th May 2013, and the acquisition of all of Ray's entire Collection by the Foundation, the Trustees are committed to continuing Ray's hopes for the future and protecting and conserving Ray's name and his unique reputation and contribution to world film history.
It is estimated that there are in excess of 50,000 items in the collection, including original armatured models, hard rubber stand-in models, armatures, original moulds, original artwork, original miniatures, stills, negatives, original equipment, paperwork, screenplays, various test and dailies footage, books and many influences, such as paintings and lithographs by Gustav Dore, John Martin and Willis O'Brien. During Ray's almost 93 years, it is remarkable and fortunate that he rarely threw anything away, which is why the collection is near complete and contains so much original material.
With such a vast wealth of archive materials it is a difficult, complex and ongoing task to catalogue and preserve as much of it as possible. However, with our new Collections Manager, Connor Heaney, the task of cataloging the archive is well in hand in the lead up to Ray's centenary in 2020.
In August 2008 the Foundation recovered a huge cache of items from a garage at Ray's house in Los Angeles. Ray always insisted that if there was anything in the garage then it would be 'crap' because he felt it would be unimportant, but what seemed unimportant to Ray, is film history to the rest of us.  Discovered there were items from his earliest experiments including a triceratops used in Evolution of the World, which still retained its complete latex covering, which is in remarkably good condition.
Also recovered were armatures of the tyrannosaurus rex and the brontosaurus also seen in Evolution, both of which still retain their resin heads and feet.  Along side these were armatures for the large tentacles featured in It Came From Beneath the Sea still retaining a small amount of cotton and latex covering, string marionettes and items from the Fairy Tale series of short films.  These items along with 14 boxes of other materials have now been integrated into the main collection in London.
A programme of preservation has also begun.  Some models are in rapid deterioration, for
example Talos and Kali, but most are in reasonably good condition and are made available to exhibitions around the world.
The work of the Foundation continues and it is hoped, with the help of friends and filmmakers that the world of Ray Harryhausen will not be lost and will retain intact for future generations.
Future Plans
Scholarship
It was Ray's wish that we set up a stop motion animation scholarship in his name. We hope to have one here in the UK another in America possibly at Ray's old night school college, the University of Southern California.
Exhibitions
Other plans include exhibitions, conventions and some publically accessible works with a full sized selection of creatures in the works.
Commentaries
Most if his films didn't have commentaries recorded. Film maker and Foundation Trustee John Walsh recorded all of the remaining films with Ray which give a complete recorded of his work.
Films
We are in very early talks about making some of those films that remained on Ray's development slate a cinematic reality.
Ray Harryhausen: Movement into Life
Ray Harryhausen: Movement Into Life is a 16mm documentary by John Walsh while studying at the London Film School in the late 1980s. The film is significant as it was the first documentary that John Walsh made. He subsequently went on to have an award-winning career as a documentary filmmaker. It also led to a long-term friendship with Ray Harryhausen that led to John being asked to be a Trustee do the Ray and Diana Harryhausen Foundation.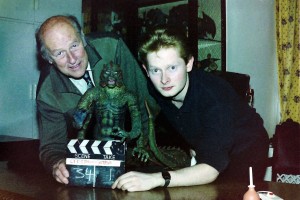 The documentary was narrated by Doctor Who actor Tom Baker, who won the role of the TV timelord after appearing in Ray Harryhausen's The Golden Voyage of Sinbad in 1973.
A clip of the documentary is viewable here:
Charitable Status:
The Ray & Diana Harryhausen Foundation is a registered Scottish charity (No. SC001419) and is recognised by the US Internal Revenue Service as a Foreign Tax‑Exempt Organisation. The registered office of the Foundation is Princes Exchange, 1 Earl Grey Street, Edinburgh EH3 9EE, UK.
Trustees:
At present there are four Foundation Trustees:
Vanessa Harryhausen
John Walsh
Simon Mackintosh
TC Trustees Limited