Ray Harryhausen film and lecture series at Science Museum Oklahoma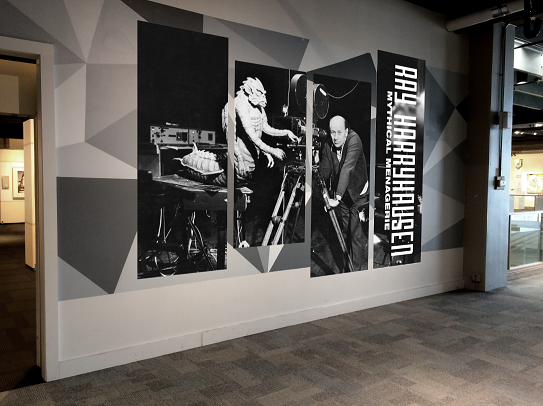 A series of screenings and lectures have been announced by the Science Museum Oklahoma, in collaboration with the Ray and Diana Harryhausen Foundation, to celebrate the 'Mythical Menagerie' exhibition. See some of Ray's most beloved films on the big screen, after seeing his creatures up close at the Museum!
October 20th will see a one-of-a-kind celebration of 'Clash of the Titans' (1981), with a special presentation on the film's legacy and history from Collections Manager Connor Heaney, plus for the first time, a post-film Q&A panel with Ray's daughter, Vanessa Harryhausen. Fans will have the opportunity to attend a unique reception and meet and greet at the exhibition itself, before a screening of Ray's beloved final movie.
Later in the year, 'The 7th Voyage of Sinbad' (1958) will be screened on December 2nd, with an in-depth presentation on the film's history and legacy from Connor Heaney.
For more information, and to purchase tickets, visit https://www.sciencemuseumok.org/smart-space/ray-harryhausenF
Full screening details as follows:
Sept. 15: Jason and the Argonauts
Doors open at 6 p.m., screening at 7 p.m.
Tickets on sale now
General admission: $10
Oct. 20: Clash of the Titans
With special guests Vanessa Harryhausen, daughter of Ray Harryhausen, and Connor Heaney, collections manager for The Ray and Diana Harryhausen Foundation
Doors open at 6 p.m., screening at 7 p.m.
Tickets on sale at 10 a.m. Sept. 6 for museum members and 10 a.m. Sept. 7 for the general public
General admission: $25
VIP tickets: $100
Dec. 2: The 7th Voyage of Sinbad
With special guest Connor Heaney, collections manager for The Ray and Diana Harryhausen Foundation.
Doors open at 6 p.m., lecture and screening at 7 p.m.
Tickets on sale at 10 a.m. Sept. 6 for museum members and 10 a.m. Sept. 7 for the general public
General admission: $10

Categories:
Announcements