Harryhausen 100- Vote in the ultimate creature poll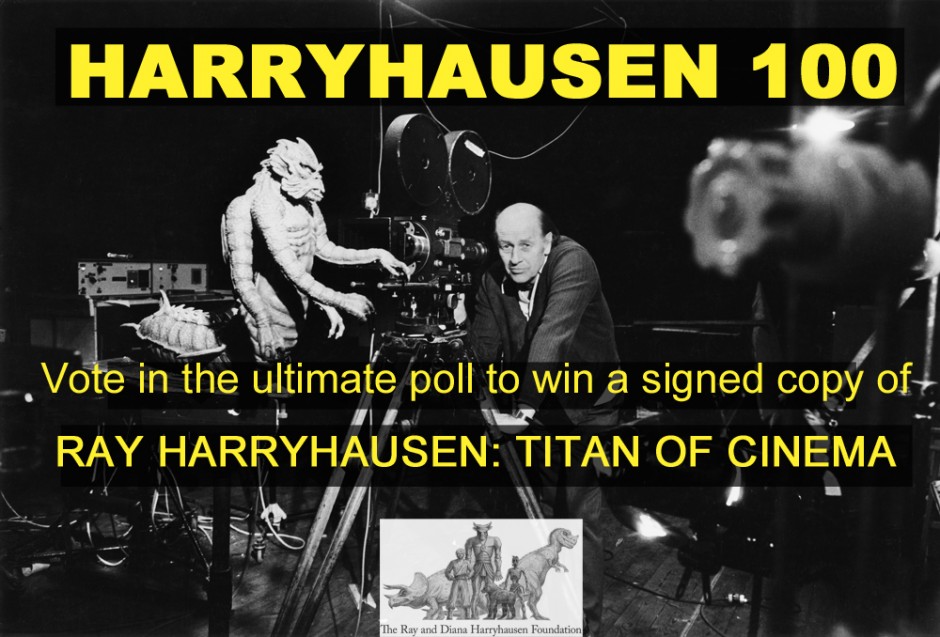 Vote here
A month ahead of what would have been Ray Harryhausen's 100th birthday, The Ray and Diana Harryhausen Foundation have launched an online poll to find which one of his many creations is the world's favourite. Will it be Bubo the playful mechanical owl, the monstrous Medusa or the iconic skeleton warriors from Jason and the Argonauts? The results will be announced shortly before the centenary.
Ray Harryhausen was one of the most influential and important artists of the 20th century. His iconic work on films such as Clash of The Titans, One Million Years BC and The 7th Voyage of Sinbad have captured the public imagination and inspired filmmakers such as George Lucas, James Cameron, Peter Jackson and Steven Spielberg to name only a few. Harryhausen's unique Dynamtion technique ensured that whether he was making owls and skeletons, squirrels and scorpions or dinosaurs and apes; his work retained a unique quality that stands the test of time.
An exhibition of Ray's work is scheduled to be displayed later this year at the Scottish National Gallery of Modern Art which will allow the public to see recently restored versions of some of his most beloved creations. The exhibition, Ray Harryhausen: Titan of Cinema, will be accompanied by a book written by his daughter, Vanessa. It will mark the first time Vanessa has spoken about her father's work in such detail, and will include a personal biography of her father, from the beginnings in the 1930s through to projects he was working on just less than a decade ago. Ten randomly selected voters will win a signed copy of Ray Harryhausen: Titan of Cinema.
On the topic of this new poll, Vanessa Harryhausen said, "Dad's amazing creations have a special place in my heart. I am curious to see what the rest of the world thinks, and who will be victorious in this clash of the titans."
Find the survey at https://survey.sogosurvey.com/r/BppJIB, and please invite fans and friends across the world to take part.
Categories:
Announcements