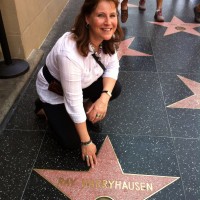 Vanessa Harryhausen
Vanessa Harryhausen is a Trustee of the Ray and Diana Harryhausen Foundation, and is Ray's daughter.
Vanessa grew up around her father's films and creations, being on set for all of his film from 'The Valley of Gwangi' until 'Clash of the Titans'. Vanessa later became a Trustee of the Foundation, and is passionate about the preservation and promotion of her father's legacy. She has hands-on involvement with the Foundation's ongoing projects, and assists with the cataloguing and rehousing of her father's archive material. She also oversees the restoration of Ray's creature collection, having been present for the creation of many of these original models.
Vanessa's first book, entitled Ray Harryhausen: Titan of Cinema, was published by the National Galleries of Scotland in 2020. Released to coincide with her father's centenary, this is the first time that she has written at length about Ray's life. The book contains previously unseen images from the Harryhausen family archive, and celebrates his wonderful contribution to cinema through his films and collection.
Outside of the Foundation, Vanessa is a member of the Scottish Castles Association, is a keen Western horse rider, and has a strong personal interest in Scottish history and Native American culture. She has an ongoing involvement with the David Livingstone Centre in Blantyre, as a direct descendent of the explorer on her mother's side. She is an accomplished illustrator, having attended City and Guilds in London, obtaining a diploma and degree in illustration.