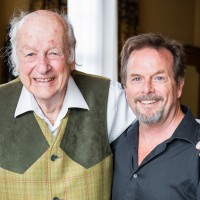 Randy Cook
Randall William Cook is an Advisor to the Ray and Diana Harryhausen Foundation. He is an American special effects artist who has worked on a number of celebrated films, including 'The Gate', 'Ghostbusters' and 'The Lord of the Rings' trilogy.
At the suggestion of animation director Bob Clampett, in 1975 Cook applied for and was admitted to the Animation Training Program at Walt Disney Studios, where he studied under Eric Larson. His interest in live action production led to an assignment as a gag man/storyboard artist on his first film, 'Herbie Goes To Monte Carlo'.
Randy's abilities as animator and sculptor led to work with David Allen and Jim Danforth, on such films as 'Caveman' and 'Q', as well as solo stints as Visual Effects Supervisor on such films as 'The Gate' and 'I, Madman'.
Realizing the advantages of computer animation in the early 90s, he supervised the animation on several features (such as 'Demon In The Bottle' and 'Redline'), before being asked by Peter Jackson to serve as Animation Director on 'The Lord Of The Rings' series. He received multiple Academy Awards for his work upon this iconic trilogy.
Randy first met with Ray Harryhausen in 1971, and the two became lifelong friends over the proceeding decades. He has contributed to a number of commentary recordings for DVD and Blu-Ray releases of Ray's films, including 'Jason and the Argonauts' and 'First Men in the Moon'. In 2008, Randy was joined by legendary animator Jim Danforth to assist Vanessa Harryhausen in excavating a trove of 'lost treasures' from Ray's garage in Los Angeles, resulting in the discovery of many incredible archive items which had long been presumed lost.