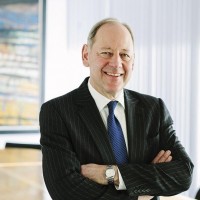 Simon Mackintosh
Simon Mackintosh is a Trustee of the Ray and Diana Harryhausen Foundation. Simon is a former solicitor, having recently retired from Turcan Connell, where he was sometime Chairman of the Partnership. He has long-standing involvement with the Harryhausen family and the Foundation, and brings specialist knowledge of charity law and related matters to the Board of Trustees.
Simon was for many years accredited by the Law Society of Scotland as a Charity Law Specialist, was a member of the Scottish Charity Law Review Commission (known as the "McFadden Commission") whose report led to the introduction of the Charities and Trustee Investment (Scotland) Act 2005, and was sometime chair of the Law Society of Scotland's Charity Law Sub-committee.
Simon's expertise covers issues of charity governance, regulation, formation and mergers, including tax aspects. His experience as a charity trustee includes serving on the Board of the Edinburgh International Book Festival and chairing the Court of Directors of the Edinburgh Academy.  He was recently appointed Chancellor of the Order of St John in Scotland. He has also contributed to a number of publications on charity law and has served as trustee of various pension funds.